Differentiate. Accelerate. Achieve.
Build StrongEarly Literacy Skillswith Smarty Ants
An exciting new kindergarten literacy initiative from Idaho DOE
and Achieve3000.
START TODAY!
Complete the form below to activate your free subscription to Smarty Ants.
Smarty 2021: Diving into Early Literacy
Give your early learner the right start on the road to reading success with Smarty Ants!
As part of the special partnership between Idaho DOE and Achieve3000, Idaho students who will be starting kindergarten in fall 2020-2021 school year will receive a free subscription to Smarty Ants.*
Smarty Ants is an effective, research-based, foundational literacy program designed just for young learners. By having your child practice with Smarty Ants this year, you can ensure that they're prepared to start kindergarten this fall!
Once your free subscription has been activated, your child will have access to Smarty Ants now until April 2023. As a parent or guardian, you will also have access to the Smarty Ants Teacher Dashboard so you can monitor and support your child's progress throughout the year.
To get started, fill out the form on this page and we'll be in touch with directions for setting up your Smarty Ants account! Prefer to activate your subscription by phone? Simply call 877-235-2525 and provide the code "SmartyIdaho."
*Free subscription available only for those students who will be attending kindergarten in Idaho DOE during the 2020-2021 school year.
Literacy for Young Learners
Smarty Ants provides everything young learners need to build strong early literacy skills - all in a fun online environment that will keep them engaged and learning all year long:
Children start in the "Swimming Pool," a quick assessment that identifies each student's current level of reading readiness.
Smarty Ants automatically adapts instruction according to each child's exact skill level, learning temperament and learning pace.
Through engaging instruction and games, students develop essential literacy skills like phonemic awareness, phonics, fluency, vocabulary and comprehension strategies.
Thousands of virtual awards to collect and dozens of mini-games to play make learning how to read fun and exciting for every child.
Support for Parents and Families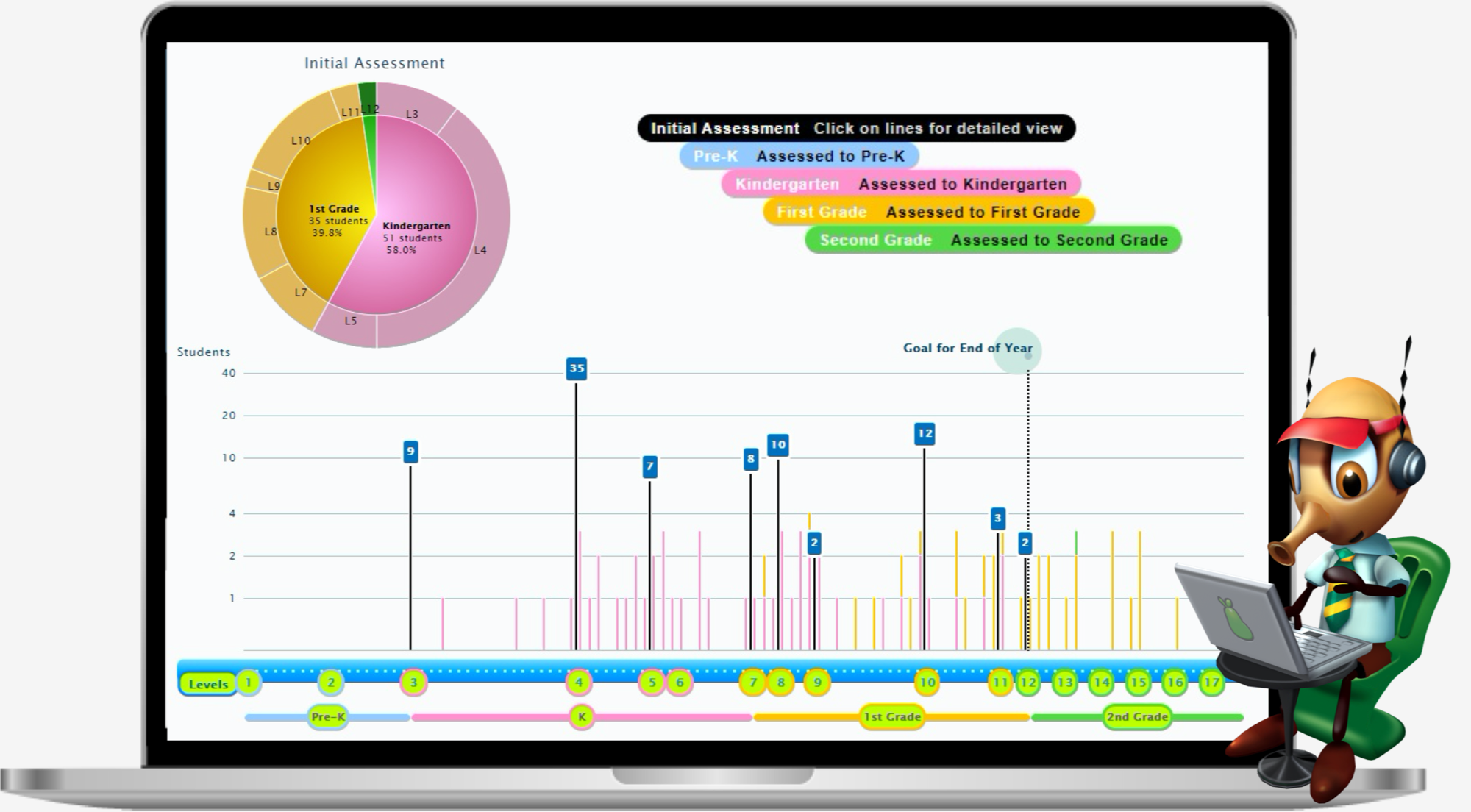 Smarty Ants is easy for parents and families – once a child's account has been set up in Smarty Ants, the program automatically delivers the "just right" level of instruction to keep every student motivated and moving forward on the path to reading success. It even includes an "ant coach" that provides each student with helpful hints and kind feedback!
As part of the Smart Start initiative, families of participating students will receive access to the Smarty Ants Teacher Dashboard. The Dashboard makes it easy to:
Quickly view your child's starting level – and rapid literacy growth.
Track your child's accomplishments with comprehensive progress reports
Monitor how much time your child spends on the program
Print worksheets and resource cards for additional learning activities
Once your subscription has been activated, your child can access Smarty Ants 24/7, on computers, tablets and other mobile devices!
Your child can access Smarty Ants from any computer that meets these system requirements:
Operating System: Windows XP/Vista/7/8/10 or Mac OS 10.5+
Browser: IE 8+, Firefox 3.6+, Chrome 49+ or Safari 5+
Flash: Version 20.0.0.286+
Internet connection (direct cable or Wi-Fi)
On computers, Smarty Ants works directly in your browser – no installation required!
Smarty Ants will also work on any iPad with iOS version 6.0+ and any Android tablets running OS 4.1+. You can download the free apps from the Apple/iTunes App Store or the Google Play Store. For mobile devices, Smarty Ants requires minimal internet connection. Your child will only need to be online for initial login and when submitting work at the end of each session.
Activate your free subscription to Smarty Ants today.
Achieve3000 is the leader in online differentiated literacy instruction, serving nearly three million students worldwide. Based on decades of scientific research, Achieve3000's patented and proven literacy program reaches all students at their individual reading levels to significantly accelerate learning and dramatically increase college and career readiness.



331 Newman Springs Road, Suite 304
Red Bank, NJ 07701
Copyright © 2020 Achieve3000 | All rights reserved